Strategic Planning Series Part 2: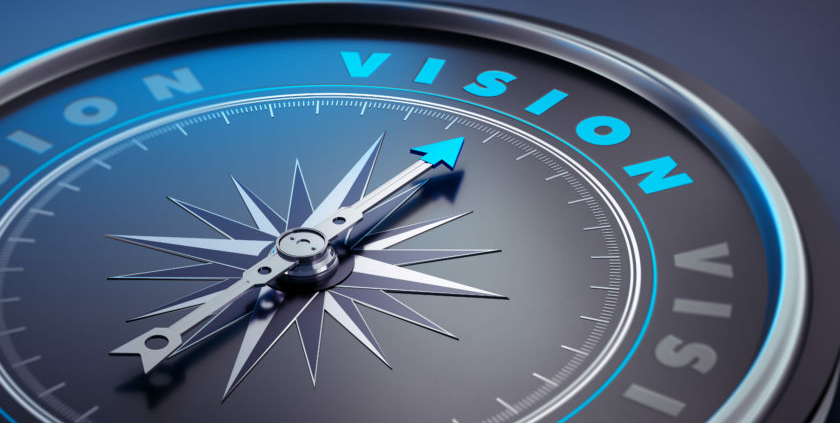 The Vision / Tracking Organizer (V/TO)
Most business owners are aware of the importance of a company vision, even if they don't take the time to create one. A vision gets everyone in the firm seeing the same clear message of where the business is going and how it is going to get there. For those who take the time to create a vision, I wonder how many keep it front and center on a regular basis, ensuring that the vision they have for the business is where they actually end up.
In Part 1 of this series, we talked about Gino Wickman's book, Traction, and the EOS system he developed in order to help organizations not just create a strategic plan but actually work the plan into fruition. The initial part of the EOS system is the development of the Vision / Traction Organizer (V/TO). The process helps the organization to develop a vision but also put other parameters into place to help work toward that vision.
The Importance of Creating a Vision
You may wonder why you need to take the time to identify or verbalize the vision you have for your firm. You know what you want for your firm, so why take the time to work through the process of writing it all down? Consider these points:
Having a clear vision for the firm that everyone understands gets everyone steering the ship in the same direction.
Fail to provide this vision for everyone in your firm, and they lack a sense of purpose and are functioning as if on an island.
The more clear your vision is to everyone, with everyone's energy focused on the same thing, the more likely you will achieve it.
"If you could get all the people in an organization rowing in the same direction, you could dominate any industry, in any market, against any competition, at any time." Author unknown
The 8 Questions of the V/TO
In order to create your organization's clear vision, the V/TO provides support in identifying eight key areas:
Core values
Core focus
10-year target
Marketing strategy
3-year picture
1-year plan
Quarterly rocks
Issues
Core Values
Well defined core values allow you to weed out people who don't fit. Without the right people in the right seats, you will not find success. An organization should hire, fire, review, reward, and recognize based on its core values. Your hiring success ratio will increase significantly if you evaluate applicants based on their fit with your core values before their skills.
Core Focus
The core focus defines your two truths: your reason for being and your niche. By having a well defined core focus for your organization, you can easily make decisions about what cases you should take on and what cases you should pass on. Staying true to your core focus allows you to avoid being distracted by the shiny stuff. By having a clear vision of your core focus, you can avoid taking on cases that are not a good fit for you. Taking cases that do not make sense for your practice results in lack of efficiency, lack of profitability, and often lack of success. In addition, if you are busy working on the "wrong stuff," you will not have the bandwidth to take on the cases that really matter to you when they arise.
"He who chases two rabbits catches neither."
Ten-Year Target
Think BHAG: Big Hairy Audacious Goals. Don't limit yourself here – shoot for the moon. It is better to have goals that are too big than to limit yourself by creating goals that are too small. Just ensure that the goals you set are specific and measurable so that your shorter-term goals can be specific enough to help lead you where you are trying to go.
Marketing Strategy
The EOS process will help you to be very specific in identifying your strategy. You will begin with four elements that identify who your firm is:
Target Market
Your Firm's Three Uniques
Your Firm's Proven Process
Your Guarantee
By taking the time to identify these traits that are unique to your firm, you will start to see a clear picture of how you can use your marketing strategy to help your firm stand out from the rest.
Once you have identified what sets your firm apart, the second part of your marketing strategy identifies who your clients are. You will want to identify these traits for your ideal clients:
Geographic
Demographic
Psychographic
By identifying what makes your firm unique and who your ideal clients are, you can focus your marketing strategy and your attention on the right clients.
"If you try to please everyone, you're going to lose your a**."
Three-Year Picture
Your three-year picture begins to break down your ten-year goal into a more manageable picture. You will begin by creating some basic measurables: Gross revenue, net profit, number of new clients, etc. Once you have identified that measurable goals you have for where you want to be in three years, think about what your firm will need to look like in order to meet those measurables. For example:
Number of attorneys
Number of staff
Added resources
Systems
Office size
One-Year Plan
Your one-year plan brings you into closer focus and should help you move toward your three-year picture. Create three to seven priorities to complete to be on track for meeting your three-year picture. These items should be specific, measurable, and attainable goals, and then ensure you have created a budget to support these goals.
Quarterly Rocks
In EOS, long-term tasks are called "rocks." These 90-day goals are created in order to ensure that you will be on target in meeting your one-year plan. Like all of your other goals / tasks, they need to be specific, measurable, and attainable.
Rocks are assigned to individuals and/or departments. Your monthly partner meetings should address progress on assigned rocks to ensure that they do not fall by the wayside in the midst of busy practices. We will talk more about the EOS meeting structure in another article.
Issues
Finally, issues are obstacles that could stand in the way of accomplishing the vision you have defined for your firm. Issues are items that need to be addressed by your management team in order to identify solutions. Issues are discussed and resolved during your partner meetings in a well organized process defined by the EOS system.
Once your partners have defined these eight items, it is time to share the V/TO with your organization. You will achieve your full potential when your leadership team is on the same page. You will then be able to move your organization in one direction, rowing together to success.
For assistance with your strategic planning, contact Suzette@LawPracticeEdge.com. For more information on the EOS system, check out Gino Wickman's book Traction.
https://lawpracticeedge.com/wp-content/uploads/2023/01/vision-840x450-1.jpg
450
840
mdmllc
https://lawpracticeedge.com/wp-content/uploads/2022/12/LPE-logo-1030x281.png
mdmllc
2023-01-06 16:57:30
2023-08-30 20:17:55
Strategic Planning Series Part 2: